Exemple of a 6 days trip in Berner Oberland area.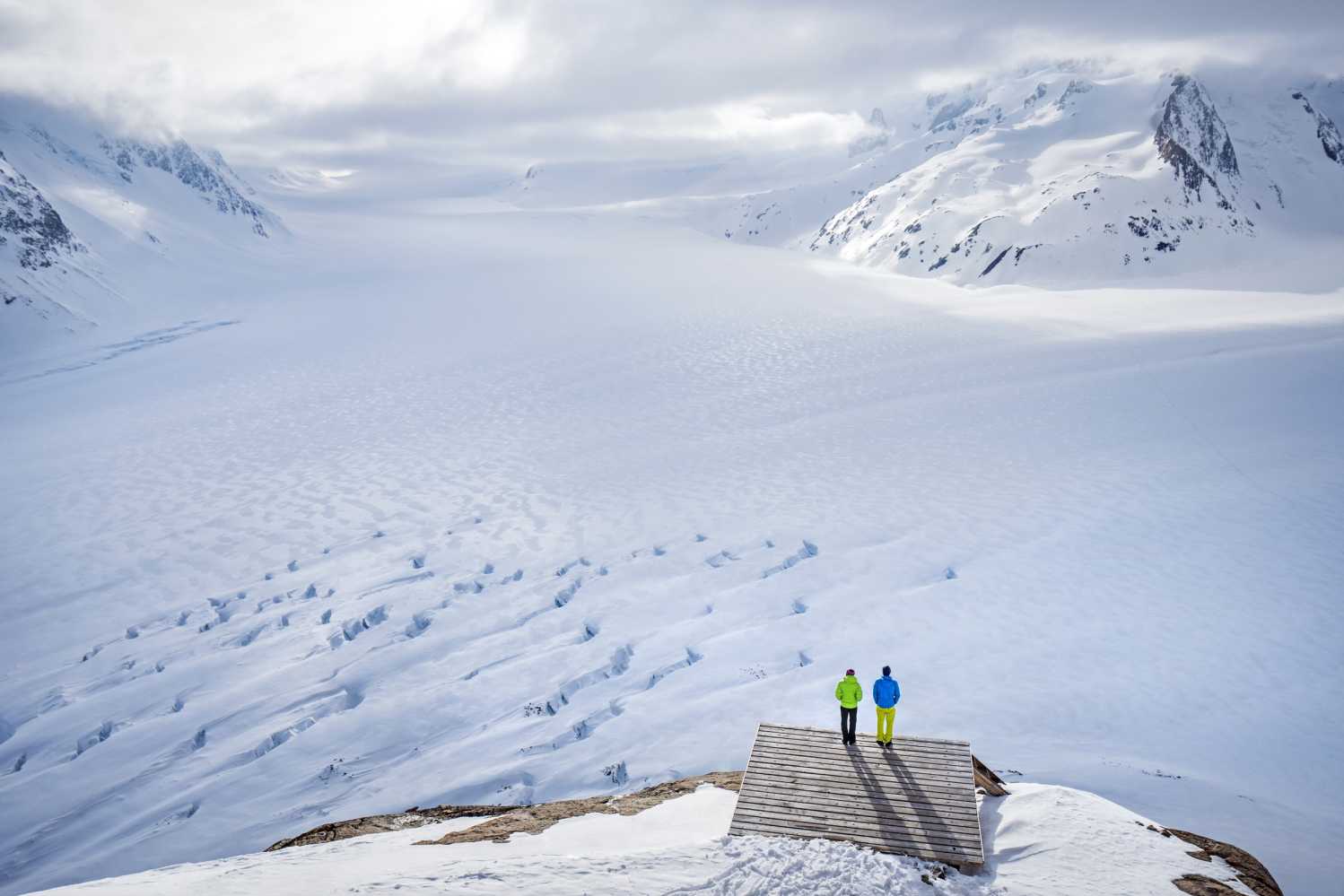 Program:
Day 1: Interlaken - Jungfraujoch - Louwihor - Hollandia
Meeting in Interlaken Ost in order catch the 6:30 train to the Jungfraujoch. It's a 2h train trip with a wonderful Scenery. We go below big glaciers, inside the Eiger North Face and finally we arrive above the Jungfraufirn at 3572m. Once we arrive at the top we can spend some time to take a look at the view and drink a "Ovo". Then go down then up to the Louwihorn (3777m). Then we go down to Grosser Aletschfirn and finally go up to Hollandiahutte.
Ski up: 930m
Ski down: 980m
Distance: 11km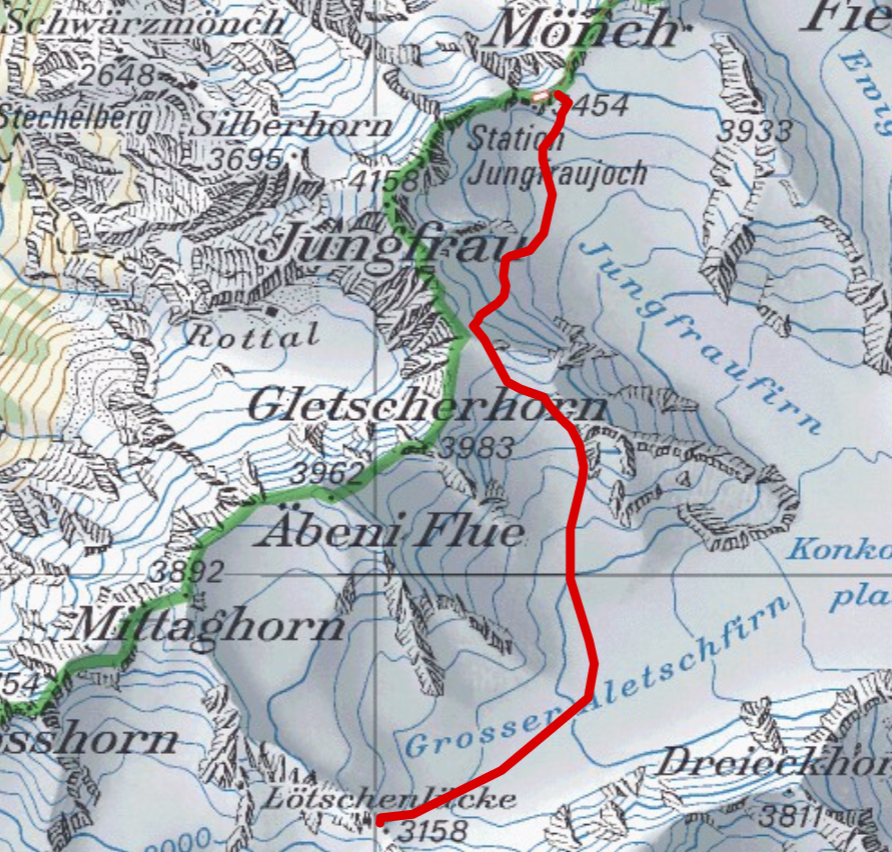 Day 2: Hollandiahutte - Abeni Flue - Konkordiahutte
We go up to Abeni Flue, then w have 2 options:
- going down from here we came
- going down on the Abeni Flue north side
The 2 options go to the grosser Aletschfirn, then we follow the glacier until the Konkordiaplatz and we climb up 100m to go to the Konkordiahutte.
Ski up: 880m
Ski down: 1200m
Distance: 14km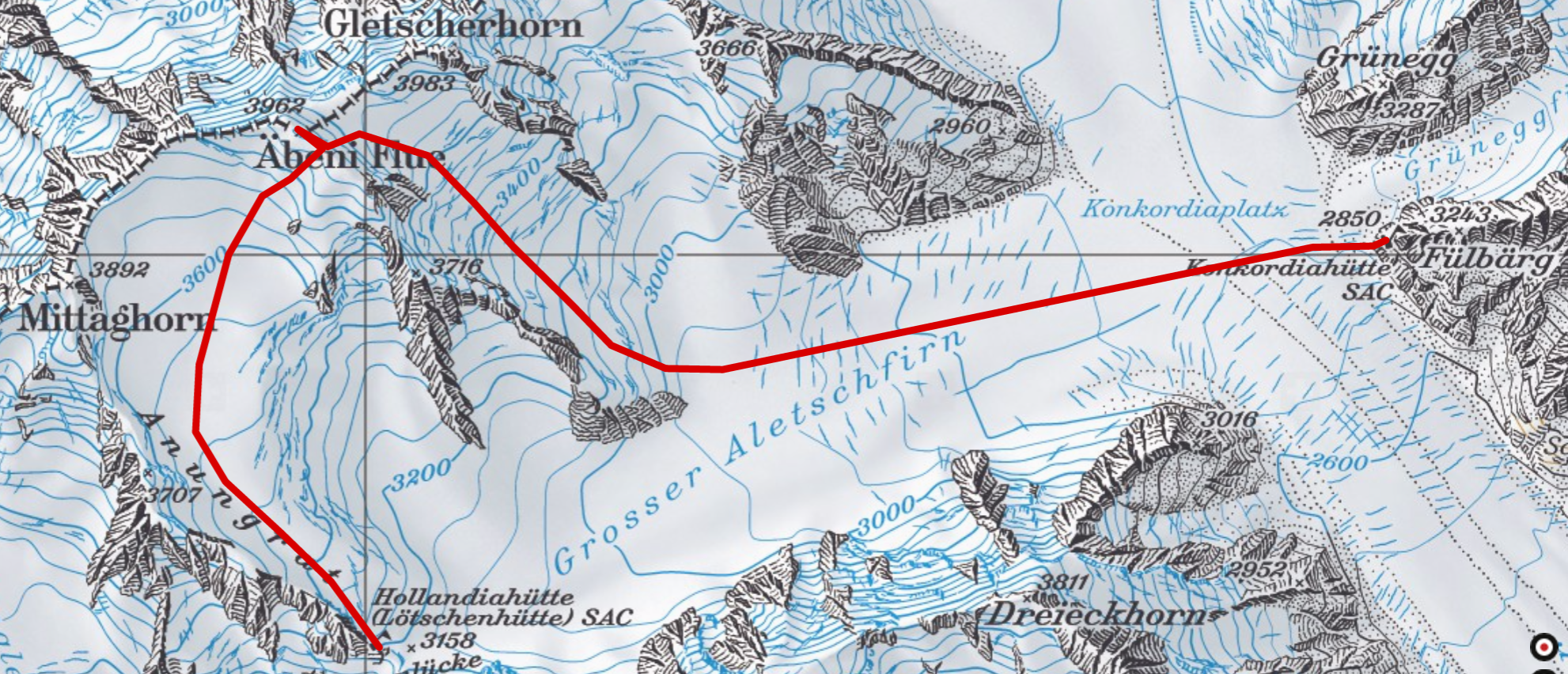 Day 3: Konkordiahutte - Grunhornluke - (Wyssollen) - Finsteraarhornhutte
We go up to Grunhornlucke in order to go to Finsteraarhornhutte. If we have enough time we will do a detour to the Wissnollen.
Ski up: 1300m
Ski down: 1150m
Distance: 12km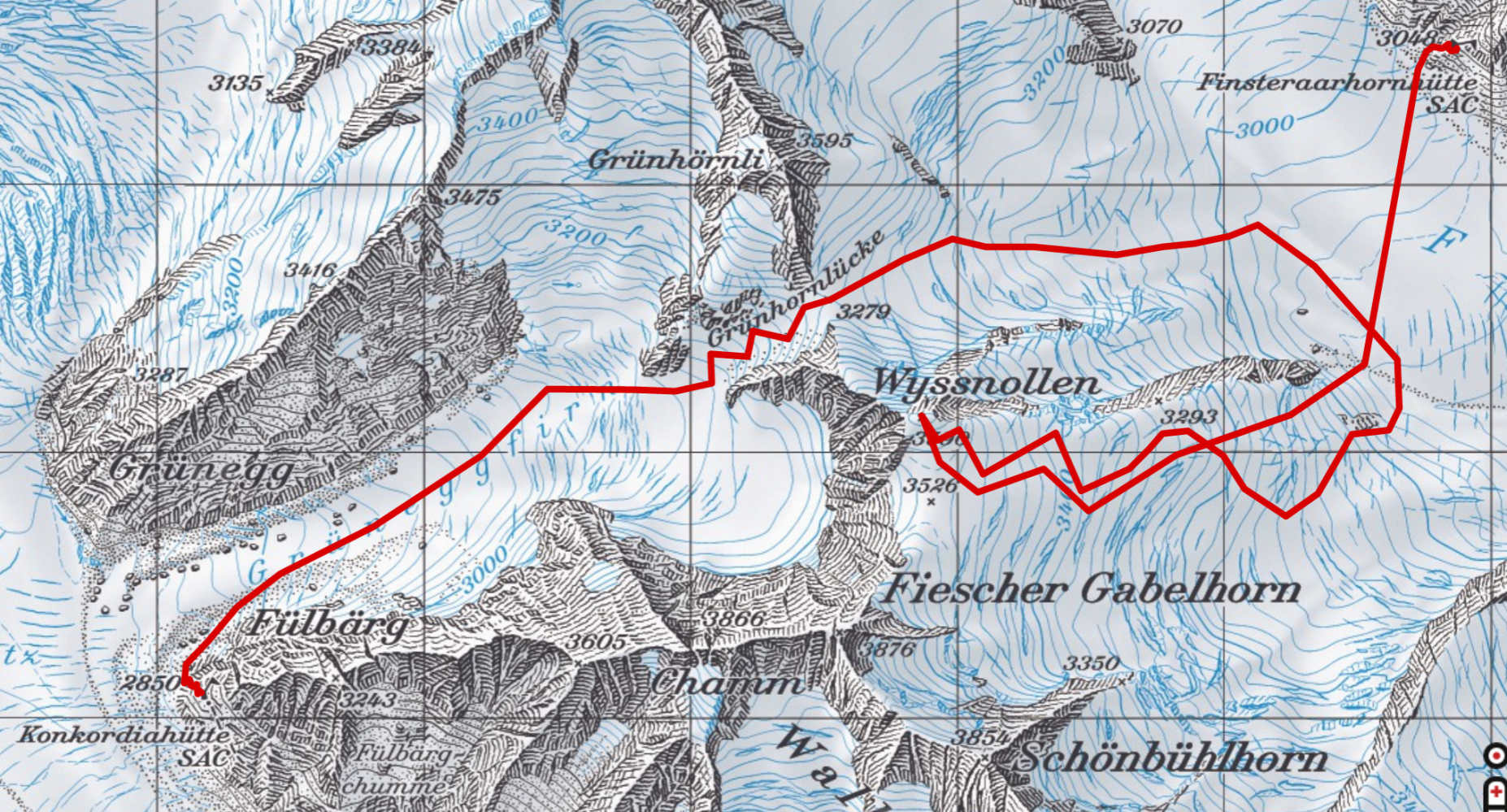 Day 4: Finsteraarhornhutte - Interes Ficherhorn or Finsteraarhorn - Finsteraarhornhutte
It's the day with a light back pack! If the weather has been bad before, can also be an extra day to go back on the schedule.


Day 5: Finsteraarhornhutte - Grosse Wannenhorn - Oberaarjoch
The Grosse Wannenhorn (3906m),wish is on the way to Oberaarjoch, is one the the best ski descent of the area. So we will do a short detour of 900m up to climb it.
Ski up: 1630m
Ski down: 1450m
Distance: 14km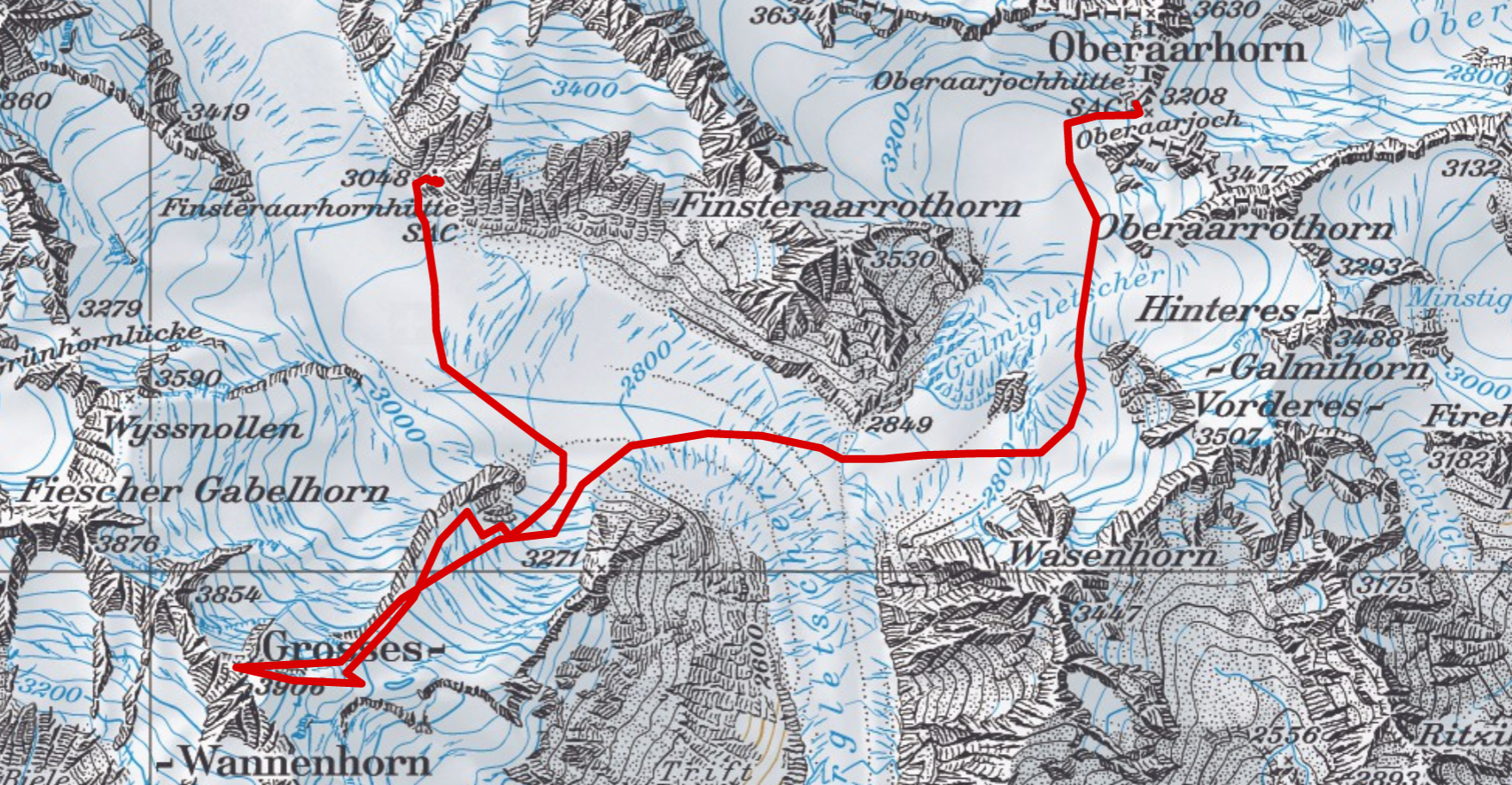 Day 6: Oberaarjoch -Bachlilike - Interlaken
If the weather forecast is good we will go to the Bachlilike hearly in the morning, in horder to get good corn snow. Otherwise you can escape through the Grimselpass.
Ski up: 400m
Ski down: 2230m
Distance: 9km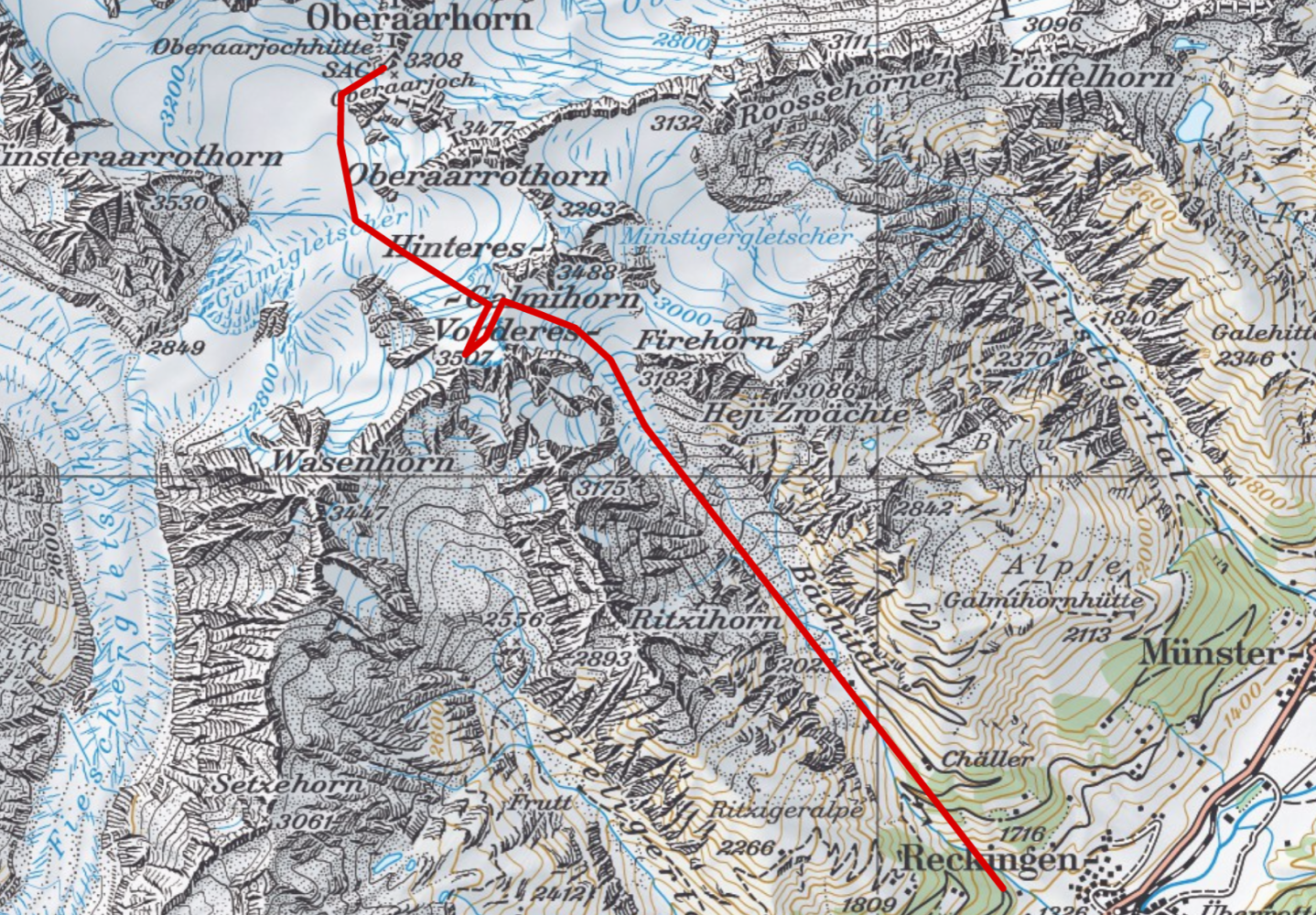 Ski skills required
Ability to turn comfortably through the fall line in difficult deep, heavy snow, or bad breakable crust.
Ability to execute hop parallel turns or pedal-hop turns on 35° firm snow.
Ability to ski the fall-line with short-radius, rhythmic parallel turns in deep light snow.
Ability to side-slip, both forward and backward, on firm 40° slopes.
Ability to skate on level ground.
Extra day: Mittaghorn
An old guide Swiss mountain guide told me: "it's the best tour of Europe!" Ok he was a local guide, pride of his mountains, but it's actually amazing! Even more if you finish the day in Anenhutte's sauna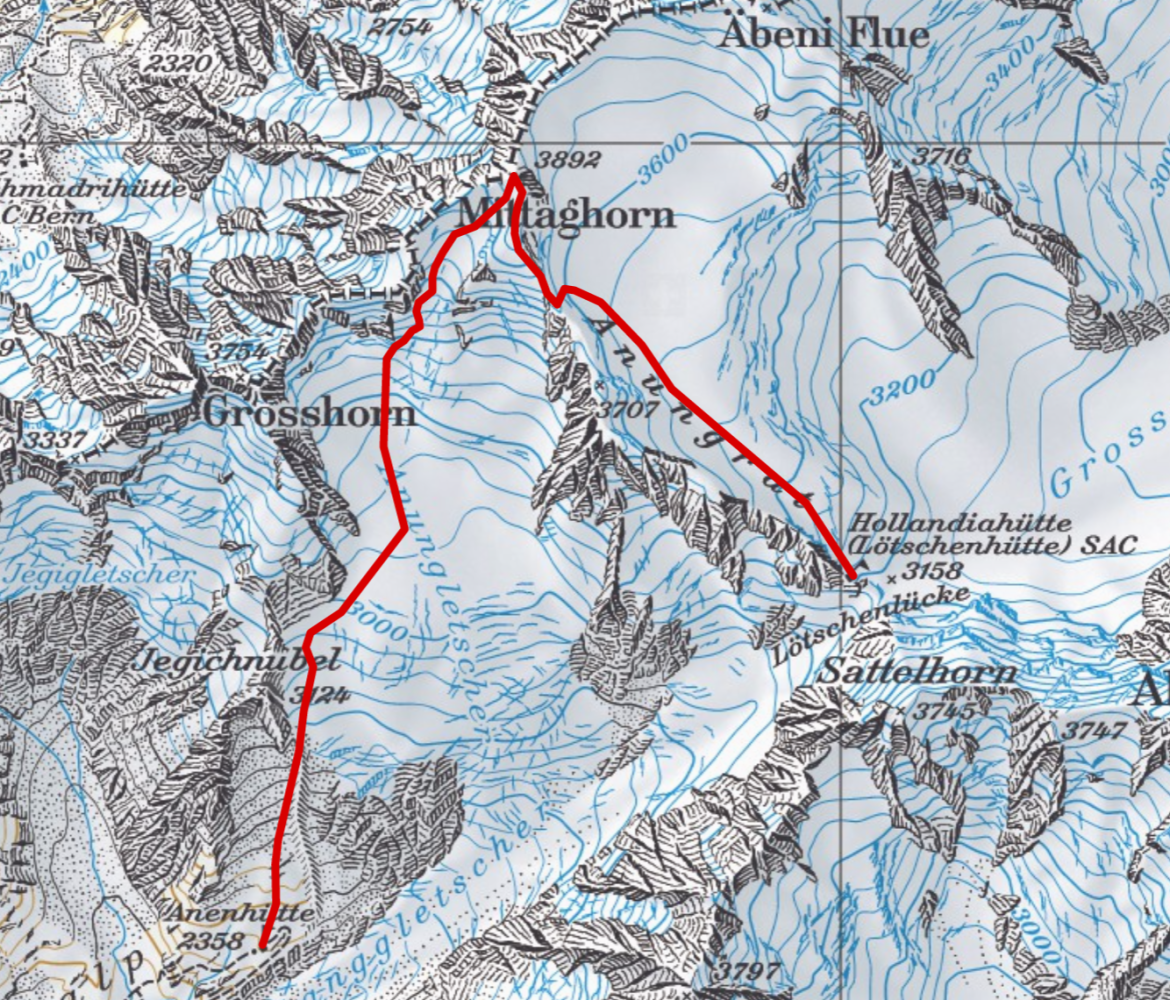 Be aware that there are many ski options in this area. From very difficult to moderate level ski tour. If you are looking for a specific ski tour please let me know.